Endpoint Detection and Response Meaning: EDR has become a buzzword in the sphere of cybersecurity. But what does EDR stand for? It means Endpoint Detection and Response. EDR is a security technology that detects threats throughout your environment, inspects its lifecycle, and provides crucial insights. The technology contains the cyber threat at the endpoint, eliminating it before it infects the network.
Originally, the term was endpoint threat detection and response, developed by Antin Chavukim, a cybersecurity expert. He used it to point toward tools focused on discovering and inspecting malicious activities on endpoints. However, this term has been reduced to only endpoint detection and response today.
This article will help you understand EDR in greater detail.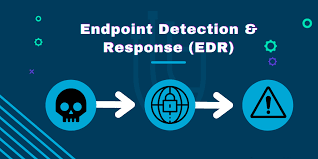 What Does EDR Stand for
?
EDR Meaning: Endpoint detection and response fill a crucial loophole in the security of endpoints. It facilitates widespread visibility into an endpoint's suspicious activity and remotely controls them to contain and prevent breaches. 
When you are learning about what does EDR stand for in security, it's essential to know the meaning of different words.
Endpoint means a device like a workstation.

Detection means detecting attacks on endpoint devices made possible by EDR technology. This technology also makes the security team to access data that can help explore the attack. 

Response means the ability of EDR solutions to respond to breaches at the device level automatically. 
EDR solutions notify security teams about malicious activities on different endpoints and facilitate real-time investigation of the core reason. 
The Working of EDR – What Does EDR Stand for?
Now that you know what does EDR stand for, let us dive into its working. There are primarily four types of behaviors exhibited by an EDR solution. 
Endpoint management – This is the capacity of an EDR to be stationed at an endpoint. Once it is deployed, it records the endpoint's data and stores it in another location for assessment. A best practice is to deploy EDR as a part of an endpoint security solution. In this case, it offers the added benefit of merging numerous capabilities into one endpoint agent. 
Generation of cyberthreat intelligence – EDR security solutions analyze raw telemetry from various endpoints. They then generate cyber threat intelligence or endpoint metadata through which users can discover how an attack occurred and how to mitigate similar attacks in the future. 

Threat hunting – An EDR solution scans for processes, programs, and files to look for signs of malware. It also searches all network connections that are open for unauthorized access. 

Incident response – Incident response is the capacity of an EDR to take images of an endpoint at different times. It rolls back the image to an earlier state if an attack occurs. The solution lets administrators isolate endpoints to halt the spread of malware across the network. 
How Is EDR Different From EPP? – What Does EDR Stand for?
When people find out what does EDR stand for in cyber security, they cannot help but compare it to EPP. This may be because both of them are concerned about protecting endpoints. But EPP or endpoint protection platforms are for different purposes. 
They offer protection at the level of devices by detecting malicious files and activities. EPP solutions prevent threats from contacting the systems of an enterprise. Unlike it, EDR facilitates identification and threat response on an endpoint.
You can consider EPP as having a preventative nature, complementary to EDR. It removes attacks that the security solutions of a business can detect. EDR complements this action as it enables security professionals to search for threats.
Certain EPP solutions have the capabilities of EDR. That is why those who try to understand what does EDR stand for usually feel that both are the same.
How Is EDR Different from SIEM?  –  What Does EDR Stand for?
EDR and SIEM are robust business security solutions. Their area of focus is improving the detection of incidents and response. They do so by enhancing the security visibility and context of the attack. 
So when you understand what does EDR stand for in security it is easy to make the mistake of considering it similar to SIEM. Both gather data from various sources, analyze it, and produce alerts about potential threats. These technologies also engage in other similar activities like threat hunting and providing security information to analysts for threat detection. 
But certain key differences make the two distinct from each other.
The focus of an EDR is only on monitoring and safeguarding the endpoint. SIEM tools give visibility into the whole business network. 

EDR solutions support incident response. Contrarily, SIEM technology focuses more on threat identification.

An EDR solution gets deployed on the endpoint and gathers data straight from the source. But a SIEM solution depends on other solutions, such as an EDR for security data analysis. 
Conclusion – What Does EDR Stand for?
Now you know exactly what does EDR stand for in cyber security and how it is different from corporate security solutions. According to IBM's Cost of Data Breach report, the standard cost of a data breach is $4.24 million. This startling statistic makes robust endpoint protection like OpenEDR Open-Source Endpoint Detection and Response platform, critical to safeguarding your business systems.
The solution provides real-time analytic detection with Mitre ATT&CK visibility for root causes analysis of cyber threat activities. This powerful endpoint telemetry platform is available to every type of enterprise to defend their business from even the most intelligent cybercriminals.
Related Resources: