When dealing with cyber threats, your organization relies on different security tools. Two famous solutions offering visibility and context are EDR and SIEM.
These tools collect data from sources, analyze it, and then generate threat alerts so your team analyst can deal with malicious attacks effectively.
Since you have a limited budget and can't get all threat identification and hunting tools, you need a quick comparative analysis of both solutions, aka EDR Vs SIEM. So that you can prioritize one over another, let's continue reading and find out where to invest.
EDR Vs SIEM: Main Capabilities
Understand EDR and its Main capabilities
Endpoint Detection and Response is an enterprise endpoint protection software that can detect, prevent, and respond to known and unknown threats across all endpoints.
This software is designed to: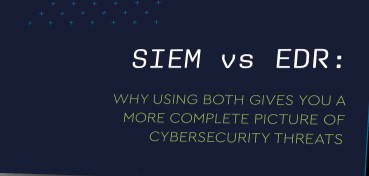 Perform real-time monitoring of all the endpoints;
Collect system-level behavior data;
Detect suspicious behavior in the system;
Create threat alerts; and
Respond to threats.
This tool offers dedicated protection and prevention. It can easily detect and prevent advanced threats, no matter whether they are file-less and or file-based malware.
Key Capabilities of an Endpoint Protection System:
Gathers incident data from all the endpoints
Detects malicious activities
Empowers team with threat hunting and data discovery
Offers Manual tools to respond to the threat
Automates incident response
Understand SIEM and Its Main Capabilities
It stands for Security information and event management. This software is designed to detect, analyze and create alerts for events. It combines forces of security information management with event management. The tool is integrated with different security tools in real-time.
Key Capabilities
Here are vital functions performed by this tool.
Integrate with multiple security tools and It systems.
Collect and correlate data from numerous resources such as networks, endpoints, computers, etc.
Generate alerts
Manage alert workflow
Offers insight into the entire IT network
EDR Vs SIEM  – Major Difference Between SIEM and EDR
Here are some things that help you differentiate between corporate security solutions.
Scope
Another difference between SIEM and EDR is that the former offers visibility into the entire corporate network while the latter provides insight into all endpoints. When your in-house teams need visibility on all endpoints, they need endpoint protection tools only.
Response Functionality
SIEM collects and analyzes data and helps you detect threats. However, it can't prevent or stop the threat at all. This software relies on other tools to eradicate the threat. However, the Endpoint detection and response system offers comprehensive security and can detect, analyze, and respond to threats. Incident response is a big plus of this tool. It works independently and doesn't require assistance from another security program.
Source of Data
The endpoint protection tool collects data only from the endpoints. However, SIEM is a data aggregator and analyzer. It contains log and event data from different sources, such as protection systems, computers, and networks. In most companies, SIEM integrates with EDR. SIEM uses endpoint data collected by the endpoint tool and correlates it with other security system data.
EDR Vs SIEM- Understand Cost Factor
When you have a limited budget and a medium-scale company, you always consider the cost factor while selecting any solution. It's good to know that SIEM is an expensive option compared to an Endpoint protection tool.
You can manage the cost of EDR as most vendors offer flat rates per device. However, you can't handle the price of a Security Information and Event Management system because its cost model is based on data consumption and sources. So, when the budget is tight, you can go with OpenEDR®.
EDR Vs SIEM – Similar Functionalities of SIEM and EDR
You already know what sets both solutions apart. It's good to find out what similar points are. Well, these tools are designed to improve corporate-level security solutions.
Your in-house team always needs visibility into endpoints and data networks. Fortunately, both solutions offer insight. It becomes easy for team analysts to run queries on databases and get the information they are looking for.
EDR Vs SIEM – Which One Does Your Organization Need?
You have got complete information about both options. Now the question is what your organization needs, and can we replace one with another?
You need reliable endpoint protection only provided by Endpoint detection and response solution. Your security analyst can benefit from the Endpoint agent and SIEM as they can have a 360 view of corporate security health.
SIEM is the most effective data aggregator and analyzer, but it alone doesn't work well.
You still need some security system like XDR or EDR for dealing with threats. Threat detection isn't helpful unless you have a tool to stop the threat. What do you think?
See Also
EDR Explained
Crowdstrike EDR vs Open EDR