Crowdstrike EDR vs Open EDR® Solutions
Today, every organization faces various endpoint attacks such as malware, ransomware, phishing, social engineering, and many more. Cybercriminals are trying new techniques to harm businesses of every size and scale.
According to Egress, APWG recorded 1,025,968 phishing attacks in Q1 of 2022.
According to Sharkstriker, It has been an estimated 2.3 billion ransomware attacks in 2022, an 80% increase since 2021 (Zscaler, 2022)
Regarding protecting your endpoints, two popular solutions are OpenEDR® and Crowdstrike endpoint protection. Before you decide what works for your business, there is a need to do a comparative analysis of Crowdstrike Endpoint detection and response vs Open EDR®. Let's continue reading and unlock the main differences between both options.
Crowdstrike Falcon XDR vs Open EDR®- What's Similar?
Both endpoint security solutions continuously monitor all the endpoints and use behavior analysis technology to identify, prevent, analyze, and stop malware attacks. Here are some similarities between both Endpoints security solutions: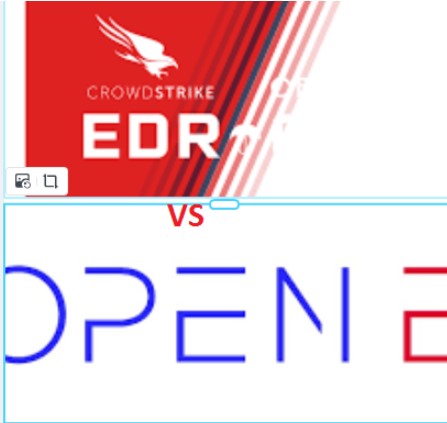 Anti-malware protection
Your organization can give up on its antivirus once you have these endpoint protection tools. They are designed with signature-based detection that allows you to prevent and stop malware attacks on all endpoints.
Machine learning
These tools can readily detect threats by isolating processes and analyzing process behavior. Whenever there is malicious activity, the system administrator will get quick alerts from them.
Threat Detection and Analysis
Your team needs to analyze endpoints to identify threats. You can quickly analyze operating system activity, user behavior, active memory, and application behavior with these tools, regardless of what you get. It's easy to do static analysis of files as well.
Crowdstrike EDR vs Open EDR®- What's the difference?
Here are some features that set Falcon XDR apart from Open EDR®
Endpoint Monitoring
These cyber security solutions continuously monitor activities, behavior, URLs, DNS, and processes across all endpoints. Your team can access the interprocess memory file and register, change, and delete them as and when required.
Threat Response
When it comes to dealing with threats, response capabilities matter the most. Crowdstrike Falcon doesn't offer remote scripting abilities; you can only get it in an Open Endpoint solution.
Cloud Management
If you need an excellent endpoint security solution, go with Open EDR® because it allows you to get ready-made cloud application connectors for Azure, Google Cloud Platform, Office 365, and AWS. FalconXDR isn't compatible with Office 365 and Google Cloud platforms.
Another difference between Open EDR® and Crowdstrike endpoint solutions s that the former collects activity logs from cloud applications, and thereby it can offer excellent threat detection and response capabilities. You can't get these cloud app features with a later solution.
EPP Capabilities
An endpoint detection tool is an evolution of EPP; thereby, when your organization employs an Endpoint Detection and Response solution, it always brings some EPP capabilities.
Machine learning/Algorithmic file analysis on the endpoint is available with Open EDR®, while Falcon doesn't have it. You can get protection from file-less malware through the former option, while the latter doesn't unlock such capabilities.
You can do host-based IPS and URL filtering with Open EDR®, while Crowdstrike EDR doesn't offer these options.
When dealing with threats, you should have a sandboxing and containment system, which you get with only the Xcitium solution, while Falcon XDR doesn't bring it.
Device Control
Before security analysts analyze threats, they need to ensure that malware doesn't spread inside your network and other endpoints. It's where the complete device control mechanism comes to offer them relief. They can control devices based on vendor ID, Product ID, and device name. If you need complete control, the Open EDR® solution is the right choice, as this feature is missing in Crowdstrike endpoint protection.
Offline Protection
The most significant difference between Crowdstrike Endpoint Protection and Response and Open Endpoint Detection and Response system is that the former doesn't prevent and block ransomware when an endpoint is discounted and offline from the internet. You can only get this capability from Open EDR®.
Threat Containment
Open Endpoint protection tool brings a virtual environment that scans and runs unknown files to prevent zero-day attacks. This software lets you easily virtualize the registry, COM, and file system on endpoints. Unfortunately, there is no containment system in Crowdstrike Falcon EDR.
XDR & EDR
Crowdstrike combines capabilities of XDR and EDR in One platform, while the Open Endpoint security tool is a different solution and doesn't have Extended detection and response capabilities.
Data Retention Period
The shortcoming of FalconXDR is that your security team only has one month to look into the database of endpoints. You won't be able to access this data later. However, Open EDR® doesn't pose any such limit, and you can retain this data for an unlimited time.
Wrap-up: Crowdstrike EDR vs Open EDR®
This detailed analysis of CrowdstrikeFalcon vs Open EDR® makes it easy for you to understand the main features and what capabilities you can't get with either solution. Open Endpoint detection and response from Xcitium is a comprehensive solution as it offers all the features of Crowdstrike Falcon EDR while letting you maintain offline protection, cloud app safety, and a shield against unknown threats.
See Also
EDR Products
What is EDR
EDR vs XDR