Malicious cyberattacks that threaten companies, government agencies, and the public continue to increase in frequency and sophistication. The most successful approach to identifying and blocking them is to combine prevention with detection results. This is what the top EDR solutions do. 
Endpoint detection and response or EDR tools come with features like real-time endpoint monitoring, investigation of threat data, and automated threat response. This article will explore the best EDR solutions in the market with cutting-edge features.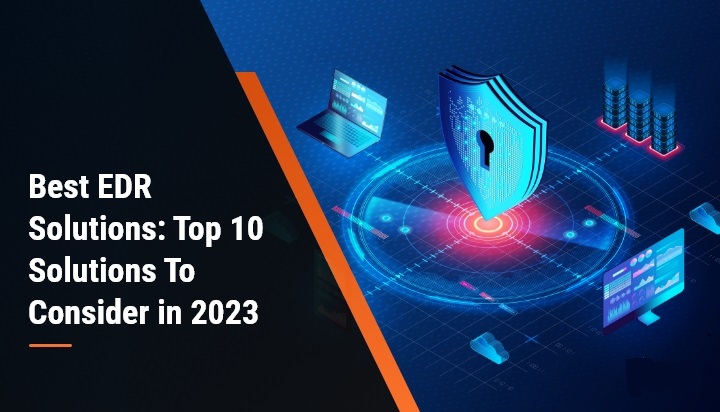 What are Endpoint Detection and Response Solutions 
In the past, a common practice followed by security personnel was blocking attacks before they occurred. To do this, they installed tools like endpoint protection platforms. However, it has now been realized that a more effective way to minimize threats is to blend prevention with detection. The top EDR solutions monitor every endpoint in real time for anomalous activities. 
These tools gather and analyze data to detect potentially malicious behavior. This data is then used by the tool to provide automated responses to stop or remediate threats. So, they give an upper hand to the threat response processes of security personnel. 
The top EDR solutions complement traditional antivirus software by detecting and alerting about malicious activities. These are those activities that the antivirus cannot recognize. 
What Are the 5 Top EDR Solutions in the Market
The best EDR solutions have wide-ranging capabilities. From keeping a tab on different devices, data, and applications to protecting those endpoints against attacks, they tick all the boxes.
OpenEDR®, one of the best EDR Solution Providers
OpenEDR®from Xcitium is an open-source EDR platform providing analytic detection with MITRE ATT&CK visibility. This results in event correlation and analysis of the root cause of the cyberthreat activity. 
OpenEDR®collects data about activities on endpoint devices and analyzes it to recognize malicious activities. It enables comprehensive monitoring, visualizes endpoint security information, and executes malware analysis.
The features of OpenEDR® that make it one of the top EDR solutions include the following:
Extensive visibility into every activity and the ability to cover virtualized and physical environments.

The EDR solution provides robust threat detection.

It responds quickly and lets you contain as well as mitigate threat activities.

Managing and providing detailed reports to boost your security posture is easy. 

The tool is open-source and accessible to security professionals in organizations of every size. 

Cisco Secure Endpoint 

 
This cloud-based solution combines prevention, threat hunting, detection, and response to protect various operating systems. It is one of the top EDR solutions because of its extensive protection abilities that block cyberattacks at the entry point. 
The EDR keeps monitoring and analyzing process and file activities to minimize the attack surface. Its top features include:
It gives a centralized view to the security personnel, making it easier to respond to the threat. 

The advanced search features streamline threat investigation. It, in turn, helps the security team to gain more information about the attack quickly. 

The EDR solution accurately identifies the attacks. 
This robust, autonomous cybersecurity system prevents, identifies, and responds to attacks quickly. It provides real-time visibility and cross-platform correlation. The solution is powered by artificial intelligence, which responds to threats across endpoints, IoT devices, and cloud workloads and containers. 
It comes in the list of the top EDR solutions as it has a highly accurate detection rate. Also, it gives absolute clarity of what has happened. Here are its leading functionalities.
Provides a graph that contains information about recent attacks. 

The autonomous actions of this platform provide peace of mind. 

The solution does not consume significant system resources.

The product can scale according to the organization's needs.
This EDR solution isolates the endpoint, a process known as network containment. This lets organizations act swiftly by isolating the compromised hosts from every network activity. 
When you contain an endpoint, it can get data from the CrowdStrike cloud. But it stays contained even if the link to the cloud is canceled. 
CrowdStrike is certainly one of the top EDR solutions that empower security teams to grasp the threats happening and remediate them quickly. Its major features include:
Real-Time Response, giving improved visibility to security teams. 

This EDR accelerates the rate of investigation and, consequently,

remediation because the information from the endpoint is kept in the CrowdStrike cloud.

The solution is integrated with cyber threat intelligence, which offers expedited detection of attacks.
Microsoft Defender for Endpoint 
This is yet another one of the top EDR solutions by Microsoft that swiftly end attacks and evolves defenses throughout operating systems. It provides preventative protection and also host-breach detection. 
You don't need to deploy additional architecture. There are also no delays or update compatibility problems. Its top features include:
The solution is developed on a deep insight into Windows threats and signals various devices share.

The anti-exploit technology blocks in-memory and application attacks.

It has the efficiency to quarantine compromised endpoints and eliminate malicious processes.
Summing up – Top EDR Solutions
These top EDR solutions give companies broad and granular glimpses of the threat landscape. Our best pick out of them is OpenEDR®, an endpoint telemetry platform for organizations of all sizes. It continuously monitors endpoint activity and offers comprehensive visibility into all activities. Visit OpenEDR® and get started for free today.