An endpoint detection and response system helps your organization to improve its security posture to a great extent. Once you deploy this software, it ensures that any malicious activity on your endpoint is detected and responded to on time. If you want to learn how to deploy EDR and things to consider before deployment, then continue reading and know it all.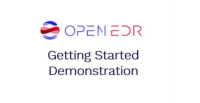 How to Deploy EDR Step-by-Step Guide
Here are the general steps you need to take for Endpoint Detection and Response (EDR) deployment on enterprise endpoints:
Identify Endpoints In the first step, you need to identify all the endpoints where you want protection against malware. If you have all the endpoints on-premises, you need to install them only on them. However, when you have cloud-based and remote endpoints, it's vital to know how to deploy Endpoint detection tools on all these endpoints.
These days, every vendor offers cloud-based,on-premises, and hybrid solutions. It's easy to pick one solution per your enterprise's needs and requirements.
2. Evaluate EDR software Tons of vendors are out there, and when you are selecting the best EDR for your enterprise, you need to consider your specific requirements. You can go with a demo when you are still determining what works for your business. It helps you evaluate all available options and decide what works for you.
3. Plan Deployment The next step you need to learn how to deploy EDR. During this planning, you will consider network architecture, security infrastructure, and compatibility with existing security software. You will also decide about the scope. It's when you identify all the resources required for this tool deployment.
4. Test Deployment In the next step, you will test the deployment. It means deploying this software in a staging environment. This test allows your in-house cybersecurity team to identify compatibility and other issues. It's the right time to know what needs adjustment.
5.  Install the EDR software. Once the test results are acceptable, the next step you would take is to start installing the software on all the endpoints. Every vendor has specific guidelines for the installation of software. You can follow these steps and do the proper setup. Even when you face any issues, it allows you to fix them. Besides, the customer support team is available to help you. Your team can directly connect with support if you have some questions or concerns.
6. Configure the EDR software. In this step, you will set up the software. For example, Open EDR® offers customization. It means you can change the policy per your specific organization's requirements. Every enterprise is different and has specific needs; when selecting this detection and response tool, you better go with customized policy one. It brings configuration flexibility that your organizations need all the time.
7. Monitor the Deployment Once all the setup is done, you will start monitoring the EDR software. You can perform penetration testing so that you would know how this tool detects and respond to threats.
8. Continuous Update According to Dataprot, 560,000 new malware are discovered every day. If you want to secure your corporate endpoints, it's essential to go with an EDR vendor that keeps updating the software to let you detect new threats and avoid attacks from brand-new malware.
Things to Keep in Mind during Endpoint Security Tool Deployment – How to Deploy EDR
Here are some main points you need to consider before choosing any Endpoint security solution for your organization.
How to Deploy EDR and What are the Types of EDR
 Before signing up for any solution, you need to consider all the available options. It's essential to check live and video demonstrations of different cybersecurity solutions. It makes it easy for you to choose either cloud-based or on-premises solutions.
EDR Compatibility – How to Deploy EDR
Compatibility You might have multiple security solutions available in your enterprise. Before getting any software, you should know whether a new solution is compatible with the existing one. Compatibility is a big issue; it's better to address it first. You can achieve a unified defense strategy all across endpoints when you consider this thing.
Staff Resources Another thing to consider before getting software is knowing whether you have adequate staffing resources available. You can have two main options if you don't have enough resources. The first one is to get an easy solution with no learning curve, so you won't have to hire another expert. Another option is to offer MDR services that include an EDR service. Many cybersecurity companies Managed detection and response services. Experts manage your endpoint and network security.
Finally, you know how to deploy EDR. The steps mentioned above are general guidelines. These steps can vary from one EDR vendor to another. Your security team should carefully review the vendor's documentation. It allows you to follow the recommended guidelines.
See Also
Definition Of EDR
What is XDR